The kids are soooo excited to learn about the mountain they have been impatiently watching the news for since January. Kelda is most excited by all this action as she is really into volcanoes, storms and fascinated even more so with the caldera over Yellowstone. She says I can't use the title "There she Blows" until the caldera goes and by then everyone will know first hand and it won't be by blogs.
Story Highlights
Geologists expect "explosive activity for the next weeks or months"

With the eruption, mudflows are possible on the Drift and Crescent rivers

Volcano last erupted in December 1989 and continued for months

Mount Redoubt is about 100 miles southwest of Anchorage, Alaska
(CNN) -- Alaska's Mount Redoubt volcano erupted again Monday morning, the fifth eruption since coming back to life, the U.S. Geological Survey reported.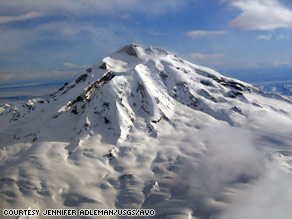 The U.S. Geological Survey says Alaska's Mount Redoubt has started erupting.
Darkness and snow obscured the eruptions, which started at 10:38 p.m. Sunday (2:38 a.m. ET Monday). Subsequent eruptions occurred at 11:02 p.m., 12:14 a.m., 1:39 a.m. and 4:37 a.m. local time.
Redoubt was last active in 1989, when eruptions lasted for five months, USGS geophysicist John Power said at an early morning news conference Monday.